How Much Does a Commercial Fisherman Really Make?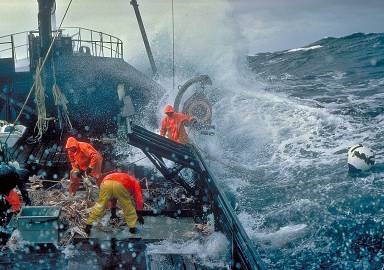 How much does a commercial fisherman make? Thanks to popular shows like Alaska Fish Wars and Deadliest Catch, interest in the fishing industry is at an all-time high. But how much can a commercial fisher really expect to earn? This is the million-dollar question, and the short answer is, it depends. The long answer? It depends.
It depends on how long a worker is at sea. It depends on the location. It depends on the species being fished. It depends on how experienced the worker is, and it depends on the type of contract entered into. In addition, the fishing industry is dependent on many factors that are beyond the worker's control.  The rewards can be tremendous. However, the hardships can be significant. Salaries vary widely between regions and are closely tied to seasonal conditions and experience. A good season can bring great rewards, while a poor season may have workers questioning their decision to work at sea. It is also one of the most dangerous jobs in the world.
According to ZipRecruiter  (a job posting service and employment search engine), the average annual pay for a Commercial Fisherman in the United States is $53,097 per year. Annual salaries are reported as high as $82,000 and as low as $16,000, but most Commercial Fishing salaries are currently $36,500 (25th percentile) to $78,000 (75th percentile) per year across the United States.
The Bureau of Labor Statistics reported that the median annual wage for U.S. fishing jobs in 2017 was $28,530. The lowest 10 percent earned less than $18,710, and the highest 10 percent earned more than $48,170. Fishers are also often paid a percentage of the boat's overall catch, commonly referred to as a "crew share". The more fish that are caught, the greater the crew share becomes. This can lead to unpredictable swings in pay from one season to another, as the overall catch can vary wildly. And, more experienced crewmembers often receive a greater share compared to entry-level workers.
In another report prepared by the Bureau of Labor Statistics, employment in the fishing and hunting industry is expected to grow about 11 percent between 2016 and 2026. This is in part due to greater demand for seafood. As Americans become more health conscious, wild seafood is seen as a great source of nutritious protein.
According to the Alaska Fishing Employment Center, salmon fishermen can earn up to $20,000 in three months, while crab fishermen can make up to $15,000 per month. In past years, deckhands on Bering Sea crab-fishing vessels have been known to earn up to $100,000 over a six-month snow crab season.
It is also important to remember that fishing jobs are seasonal. For example, The Copper River District was open to commercial fishing for a 24-hour fishing period on Monday, June 24 and a 36-hour fishing period starting Thursday, June 27. These were the twelfth and thirteenth fishing periods of the 2019 season.
There is also a big difference in job types. Seafood processing and cannery jobs are very different than fishing jobs. However, for people new to the fishing industry, these processing jobs are a great first step and a way for students, seasonal workers, or those wishing to break into the industry to get started.
Before signing on, talk with prospective employers and people who have worked at sea for the companies you are interviewing with. Ask them to help you set realistic expectations. Ask about the work, the working conditions, and the expected pay. Read your contract carefully as it is crucial to fully understand what the job entails. Knowledge is power, whether you're a greenhorn or a captain.