Alaska Fishing Boat Ocean Challenger Sinks, 1 Survivor found, 2 Dead and 1 still missing
The 58-foot commercial fishing Ocean Challenger capsized Wednesday in the stormy Pacific Ocean, 90 miles south of Sand Point, Alaska. Four were on board the fishing boat. Moments before the boat capsized, the fishermen launched a life raft, but none of them were able to get in it, overtaken by waves two stories high.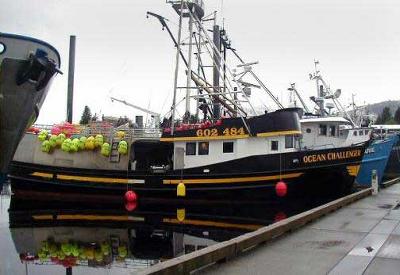 The Ocean Challenger was a longliner and home-ported out of Adak, Alaska. The Ocean Challenger had been fishing for black cod near the Sanak Islands and was traveling back to the Aleutian fishing town of Sand Point when it disappeared into the water.
The survivor, 28-year-old Kevin Ferrell, was the only person wearing a survival suit, the Coast Guard said. The two other men, skipper David "Cowboy" Hasselquist of Hoonah, Alaska and Walter Foster of Westport, Washington, were dead when pulled from the water by a rescue swimmer. The missing man, a 26-year-old Kodiak fisherman, was reportedly not wearing a survival suit, the Coast Guard said
The Coast Guard reported 25-knot winds, 20-foot waves and 48 degrees. The National Weather Service said the water temperature was also about 45 degrees.
The first helicopter, a Jayhawk, arrived about an hour after the distress call. The Coast Guard sent a helicopter, a C-130 airplane and the Coast Guard cutter Munro to the location of the capsized Ocean Challenger. Ferrell was taken to the Cold Bay Clinic in Alaska, about 50 miles away, then to an Anchorage hospital.
The cause of the capsizing is unknown at this time.
Source: Coast Guard Reports, Anchorage Daily News & Seattle Post-Intelligencer