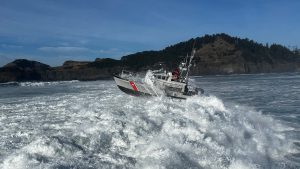 The U.S. Coast Guard rescued three people on Monday morning, May 29th, after their vessel sank in the waters off Cape Arago beach, about 15 miles southwest of Coos Bay.
At about 8 a.m. the U. S. Coast Guard received a distress call reporting that a fishing boat was taking on water. A 47-foot motor lifeboat and a helicopter launched from Coos Bay and North Bend. Responders were at the scene within 30 minutes, where they found three people in the water, all wearing life jackets.
A U.S. Coast Guard rescuer was lowered onto the motor lifeboat and helped administer first aid to the three people. Victims showed signs of hypothermia and were treated by first responders.