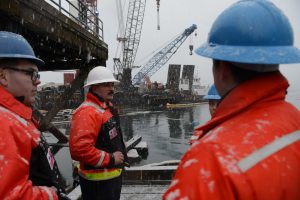 The U.S. Coast Guard has successfully recovered a partially submerged tugboat that was located at the National Guard Dock in Gastineau Channel, Alaska.
In late December of 2022, the U.S. Coast Guard Sector Juneau was notified after an oil sheen was discovered.  Working together, the city of Juneau, the U.S. Coast Guard, and the Alaska Department of Environmental Conservation assembled a response team to deal with the vessel.
A barge-and-crane system was deployed by the salvage firm Melino's Marine Services, that was contracted to dewater, defuel, and dismantle the TAGISH tugboat. Pieces of the demolished vessel were then placed on a barge and shipped out-of-state for disposal. The operation took about two weeks.