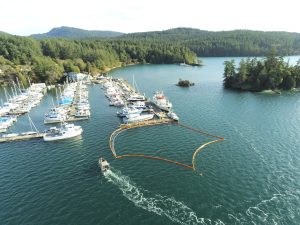 U.S. Coast Guard Sector Puget Sound, the Washington Department of Ecology, and the Islands' Oil Spill Association (IOSA) were deployed on Saturday, November 18th, 2023, to address the sinking of the 80-foot vessel EL CAPITAN at West Sound Marina on Orcas Island.
Watchstanders at Sector Puget Sound command center were alerted by West Sound Marina about the rapidly sinking vessel near the pier in roughly 30 feet of water, and a visible sheen was observed.
Coast Guard Pollution Responders promptly informed IOSA, who arrived at the scene and worked with the marina to deploy booms and absorbents. As a precautionary measure, IOSA brought several trailers loaded with additional boom supplies. The Washington Department of Ecology also responded to support IOSA's efforts. Throughout the weekend, IOSA monitored the sinking vessel.