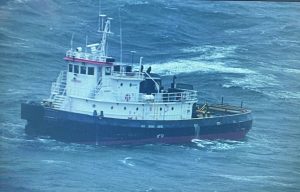 On Saturday January 14th, 2022, The U.S. Coast Guard rescued seven people after a 1,000-foot towing line snapped and the tug they were piloting became disabled. The incident happened about 30 miles off the coast of Ocean City, Maryland at approximately 3:30 a.m.
Crew members aboard the tug LEGACY were towing a 290-foot barge from New Jersey to Guyana at the time of the incident. The 1,000-foot towing line became caught in the starboard propeller. One engine was still functional, and the crew tried to regain control of the barge; however, the line snapped.
One of the LEGACY crew members called the U.S. Coast Guard Sector Maryland-National Capital Region and reported that they were disabled, adrift, and preparing to abandon ship.