Seattle Foss Maritime Shipyard Permanently Closed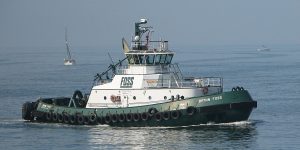 The Seattle Foss shipyard located at 660 West Ewing Street in North Queen Anne, has permanently closed, and all operations have ceased. The 115 displaced shipyard employees will continue to receive salary and benefits and an average of overtime wages until the end of 2021, according to the company.
This arrangement is in line with the requirements of the federal WARN Act, which requires most companies with 100 or more employees, provide 60 days' notice of a closure. An employer who violates WARN provisions is liable to each employee for an amount equal to back pay and benefits for the period of the violation, up to 60 days.
The shipyard was responsible for new ship construction in addition to vessel repair and maintenance. Lifts, cranes, and other equipment made the shipyard uniquely equipped to work on ships up to 2,000 tons. The Lake Washington Ship Canal location also included three dry docks.
"The difficult decision is a result of Foss Maritime's regular evaluation of business lines and follows the company's diligent effort to improve the viability of the Seattle shipyard over many years," the company said in a statement.
"While the closure of the Seattle shipyard is a strategic decision for the future of Foss, it is not a decision we have taken lightly," said Will Roberts, President of Foss Maritime. "We have employees and families who have been with us for decades; our priority is assisting them in this transition."
Foss operates one of the largest fleets of tugboats and barges on the West Coast. The company reported that other Pacific Northwest shipyards will be utilized to meet the needs of fleet maintenance and repair. The closure comes just 3 years after Foss closed the Rainier Shipyard in Oregon.
Foss Maritime Company is owned by Saltchuk Resources, a privately-owned family investment company formed in 1982 and based in the Pacific Northwest. The history of Foss Maritime Company can be traced back to the original owners, Thea and Andrew Foss, Norwegian immigrants who began a Tacoma rowboat operation in 1889.