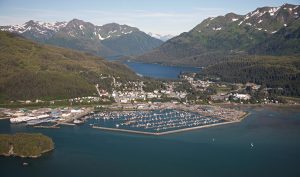 Salmon fishing season is about to begin, but nothing is business as usual this year. In just a few weeks, about 400 fishermen and processing workers will arrive in Cordova, Alaska for the opening of King Salmon and Copper River Sockeye season. The town of Cordova has a full-time population of 2,100. With no road access, Cordova has no confirmed cases of COVID-19 at the time of this post, and while most members of the community support workers arriving for the harvest (showers and bathrooms at the community center have been repurposed to serve the influx of workers), they also want to see that quarantine recommendations and other safe practices are maintained.
No one wants a repeat of the cruise industry crisis or infamous meat-packing industry outbreaks that have recently been in the news. The spread of COVID-19 in the South Dakota Smithfield Foods pork plant has been linked to over 640 cases of the virus, and 51 cases at the Tyson Foods meat-packing plant in Pasco, Washington. These are essential businesses that failed, for a variety of reasons, to keep their workers safe.
Trident Seafoods has reported that four processing plant employees have tested positive for COVID-19 as well as two office workers. Five have recovered and one is still at home convalescing as of April 20. The company is checking employees for fever daily and furthering their sanitation efforts. In response, Trident Seafood is requiring workers to quarantine for 14 days before boarding fishing and processing vessels. Many have checked into hotels and are being monitored by healthcare workers before going to sea. Although it may seem extreme, the precautions are an indication of how seriously the fishing industry is taking this public health crisis. The companies involved are acutely aware that an outbreak aboard a vessel at sea would be disastrous.