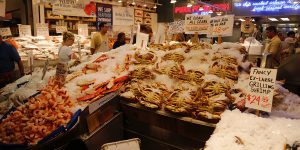 People all over the world have a longstanding tradition of feasting on seafood during winter holidays. Crab, salmon, lobster, oysters, shrimp, cod, carp, and lutefisk all have a place at the holiday table. It is important to remember that a courageous and hardworking man or woman braved the hazardous waters of the oceans and seas to bring that delicacy to your table. Whether you celebrate Chinese New Year, feast on Scandinavian inspired lutefisk, or enjoy the Feast of the Seven Fishes, the tradition of seafood during the holidays deserves a special thank you.
The celebration of the Chinese New Year always features fresh fish, a symbol of surplus and wealth. Linguists believe this is because the Chinese word for "fish" (yú) has the same pronunciation as the Chinese word for "abundance" or "extra." Serving a whole fish at the end of a Chinese New Year meal with head and tail intact, carries the added symbolism of a good beginning and ending to the new year.
In Scandinavian homes, lutefisk, cod cakes, and oyster stew were old world foods brought to the Midwest by new immigrants. Lutefisk (cod that has been preserved in lye then rinsed well before cooking) is served during holidays as a way of remembering the poverty of the past. According to Hasia Diner, a professor of immigration history at New York University, consuming lutefisk is a way of honoring previous generations, those who came to this country looking for prosperity, opportunity, and a better life.