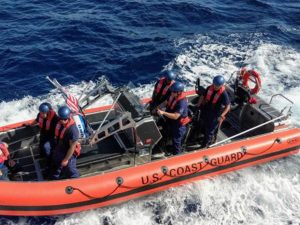 42,000 active-duty U.S. Coast Guard members have missed their first paycheck due to the government shutdown. Coast Guard members are continuing to work without pay on essential duties "that provide for national security or that protect life and property during partial government shutdowns," such as securing U.S. ports and coastlines, search-and-rescue missions, and environmental events.
Active-duty personnel who work in other branches of the military continue to receive pay as they are funded by the Department of Defense, which continues to receive funding during a partial government shutdown. However, the U.S. Coast Guard falls under Homeland Security, one of the nine departments affected by the shutdown. Others include the Department of Agriculture, the Department of the Interior, the Department of State, the Department of Housing and Urban Development, the Department of Transportation, the Department of Commerce, and the Department of Justice. The Environmental Protection Agency, NASA, and the Smithsonian have all shut down as they are under the umbrella of one of the nine department closures.
On January 4th, a bipartisan bill was introduced in Congress called the Pay Our Coast Guard Act. It would allow members of the U.S. Coast Guard as well as its civilian employees and contractors to be paid throughout the shutdown. The bill which is sponsored by Oregon Congressman Peter DeFazio, and has support from 29 Democrats and 10 Republicans. South Carolina Congressman Joe Cunningham cosponsored the bill.