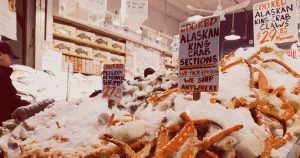 When we consider autumnal foods and beverages, we often think about Pumpkin Spice lattes, and who doesn't love a tiny Halloween Snickers bar?  But there is another type of food we should all be celebrating: Seafood! October is National Seafood Month, which means paying homage to one of our nation's oldest industries. Here are seven ways you can participate:
• Eat or serve seafood at least twice weekly. Seafood is a great source of healthy lean protein, rich in omega-3 fatty acids, vitamins and minerals, and proven to support heart and brain health.
• Partake in a local seafood festival. Communities across the nation celebrate and support the hard-working men and women who put this delicious staple on our tables.