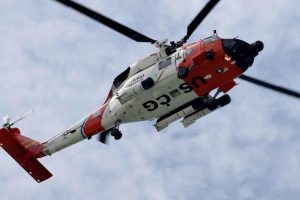 Four Coast Guard personnel sustained injuries following the crash of their MH-60 Jayhawk during a search and rescue mission in Alaska. The Air Station Sitka based helicopter crashed on Read Island, just south of Juneau.
At approximately 8 p.m. on Monday, November 13th the F/V LYDIA MARIE began taking on water amidst the rough seas of Frederick Sound. A distress signal was promptly transmitted by the ship's captain to the U.S. Coast Guard, and the vessel navigated towards the sheltered northern coast of Read Island in Farragut Bay while awaiting assistance.
According to reports, the initial responders to Monday night's Air Station Sitka helicopter crash were the crew members from the distressed fishing vessel the U.S. Coast Guard was dispatched to assist. Two brothers aboard the F/V LYDIA MARIE reportedly played a pivotal part in rescuing the stranded air crew after hearing the crash.