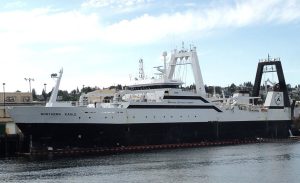 It is with great sadness that we report that a crew member aboard the F/V NORTHERN EAGLE lost his life while working at sea last week. Authorities suspect the cause of death was exposure to an ammonia leak aboard the vessel.
According to U.S. Coast Guard Petty Officer Second Class John Highwater, a satellite call was made by the F/V NORTHERN EAGLE on Friday, August 18th at 4:30 a.m.
"One of their crew members was found unresponsive in one of their engineering spaces," Highwater said. "They believe there was an ammonia leak somewhere in the vessel that caused the person to fall unconscious," Highwater reported to a local news agency.