F/V Northern Eagle Crew Member Pronounced Dead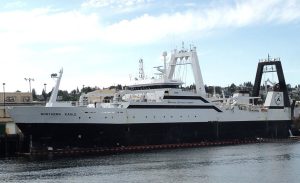 It is with great sadness that we report that a crew member aboard the F/V NORTHERN EAGLE lost his life while working at sea last week. Authorities suspect the cause of death was exposure to an ammonia leak aboard the vessel.
According to U.S. Coast Guard Petty Officer Second Class John Highwater, a satellite call was made by the F/V NORTHERN EAGLE on Friday, August 18th at 4:30 a.m.
"One of their crew members was found unresponsive in one of their engineering spaces," Highwater said. "They believe there was an ammonia leak somewhere in the vessel that caused the person to fall unconscious," Highwater reported to a local news agency.
The 350-foot American Seafoods factory trawler was already en route to Unalaska/Dutch Harbor when the incident was reported. According to Highwater, it would have taken the U.S. Coast Guard crew longer to reach the vessel than for the trawler to head directly to port. The vessel reached Unalaska at approximately 5 a.m. on Saturday, August 19th, about 24 hours after the distress call.
"The fire department, along with NOAA, the U.S. Coast Guard Marine Safety Detachment and the Alaska State Troopers boarded the vessel around 6 a.m., once they were all tied up, and began the investigation into the incident," Unalaska Fire Chief Ben Knowles reported to a local news agency.
The unresponsive worker was pronounced dead prior to arriving at port. The Unalaska Fire Department assisted the State Troopers in their inquiry and provided grief counseling to the crew members.
"We were able to hold some listening sessions and just kind of make sure that the crew members were able to have someone to talk to," he said. An investigation is ongoing.
The people at Stacey and Jacobsen are sending thoughts and prayers to the family and friends of the deceased worker and all who worked alongside this employee. We sincerely hope that investigators and business owners will act swiftly to discover how this tragic accident occurred.