Tug, Barge, and Towboat Hazards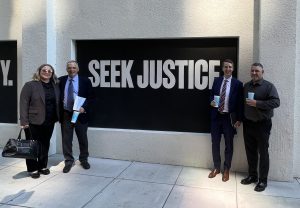 Employment aboard a tugboat carries inherent risks, emphasizing the crucial role tugboat owners play in maximizing crew safety and assuming financial liability in case of crew injuries. Regrettably, many tug and barge companies neglect these obligations. However, Federal Maritime law offers unique protection for crew members who sustain injuries while working on tugs, barges, and towboats.
Jones Act Law
The Jones Act establishes a legal avenue to pursue claims of negligence against an employer if an injury occurs. Employers have an obligation to ensure a safe work environment for all maritime workers. Most maritime accidents can be avoided by adhering to proper safety protocols, supplying a competent crew, and maintaining the condition of a ship's equipment in a reasonable and safe manner. According to maritime law, the owner of the vessel is required to furnish workers with a seaworthy ship, and this obligation is absolute.
Negligence and Unseaworthiness
Maritime workers have the right to seek compensation for injuries caused by negligence or unseaworthiness. This compensation encompasses various damages, including lost wages, diminished wage-earning capacity, pain and suffering, disability, disfigurement, loss of quality of life, medical expenses, and more. Additionally, maritime workers are entitled to the no-fault provision known as Maintenance and Cure. Under this doctrine, the employer is generally responsible for covering reasonable medical costs and providing a daily living allowance until you have attained maximum medical recovery from your injuries.
Tugboat Grounding and Stranding
Tugs and barges often encounter grounding and stranding. Grounding occurs when a vessel runs aground on the seabed, and stranding happens when the vessel remains stuck in a location for a time. This may happen due to engine malfunctions, insufficient tug power, the use of outdated navigation charts, or failures in the towline or associated towing equipment. In addition, capsizing can be linked to these factors. In some cases, inadequate storage and securing of cargo can compromise stability and lead to structural failure, which can also contribute to a capsizing incident.
Collisions
Collisions between vessels are also common. Such occurrences may stem from crew negligence, insufficient watchkeeping, insufficient crew training, insufficient lighting, and malfunctioning navigation equipment.
Fire Hazards
Additional risks encompass losses due to fires, caused by subpar cleanliness, unnecessary debris, unsafe procedures, crew carelessness, insufficient or poorly maintained firefighting gear, and/or the cargo's inherent vulnerabilities.
Tugboat Safety
Tugboats provide high horsepower, substantial towing capabilities with large lines, and are outfitted with heavy-duty winches and drums to accomplish these tasks. While these winches play a crucial role in the effectiveness of tugboats for towing barges, they also pose a significant risk for injuries. Crew members may become entangled in lines, and the various towing equipment can create tripping hazards. The deck of a tugboat can become slippery, leading to slip and fall accidents. Heavy lifting injuries, crushing injuries, or falling overboard are also potential dangers.
Barge Safety
Barges also come with their fair share of hazards. The possibility of fires breaking out on deck barges is ever-present. Firefighting equipment to swiftly address any potential incidents is imperative. The surfaces of the barge should be appropriately coated with non-slip materials, maintaining an obstruction-free environment to prevent any risk of falling overboard. Due to the confined nature of deck barges and the limited space for mobility, it's crucial to ensure that the onboard equipment is meticulously maintained to prevent accidents.
Experience and Trust
Stacey & Jacobsen, PLLC stands out as one of the most experienced legal firms specializing in maritime personal injury cases across the nation. Proficient in addressing injuries arising from tug, barge, and towboat accidents, they possess an intimate understanding of how injuries happen aboard vessels and how injuries could have been avoided. Setting themselves apart from many other maritime attorneys, a key partner at Stacey & Jacobsen, PLLC has firsthand experience working aboard tugboats. Attorney Jim Jacobsen not only speaks your language but comprehends the intricacies of your role on tugs and barges. He understands how your injuries impact your future livelihood.
Stacey & Jacobsen, PLLC has successfully managed cases against some of the biggest tug and barge companies in the nation, including Tidewater Barge Lines, Crowley, Foss, Dunlap, Brusco, Manson Construction, General Construction, and others. Stacey & Jacobsen, PLLC's verdicts and settlements in past maritime cases of all types ensure that clients can be confident that their lawyers have the experience necessary to protect their rights and obtain full compensation for their injuries. The firm recently secured a $11,401,000 verdict against Tidewater Barge Lines Inc. for injuries sustained by a Jones Act deck mechanic.
If you have questions or believe you are entitled to compensation for injuries sustained while working on a tug, barge, or towboat, do not hesitate to call Stacey & Jacobsen, PLLC for a free case review.