Two Perish After F/V Coastal Reign Capsizes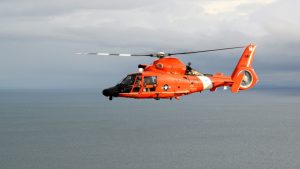 It is with great sadness that we report the death of two Oregon fishermen after the 38-foot F/V COASTAL REIGN capsized on Garibaldi Bar. The incident occurred near the mouth of Tillamook Bay on Saturday, February 20th.
According to U.S. Coast Guard Petty Officer Steve Strohmaier, Coast Guard personnel had been watching the bar area from a watchtower as boats returned to port. "The bar was not closed, but there were small craft restrictions," said Strohmaier.
At about 4:40PM, watchtower personnel watched as the vessel turned sideways in the surf then capsized while crossing the bar. Tillamook Bay rescue boats were immediately deployed, and Good Samaritan vessels responded to the scene. A USCG helicopter was deployed from Astoria and arrived shortly thereafter.
It was reported that two crew members were pulled from the water by a boat team; one crew member was unresponsive. A third crew member had climbed onto the rocks of a jetty and was rescued by the aircrew. A fourth crew member was found among the floating debris and was reported as unresponsive. All four crew members were recovered by 6PM and transported to a Portland hospital to awaiting medical personnel. One man was declared deceased at the scene, and a second man died the following morning at the hospital.
The overturned vessel came to rest at the tip of the south jetty of the Tillamook bar entrance but has since become dislodged and debris is floating in the area. Incident responders are assessing the situation as the vessel presents an environmental and navigational hazard. Officials are working to determine the best strategy for recovery. It is unclear at this time what caused the boat to capsize, and the incident remains under investigation.
Tillamook County Sheriff's deputies, the Garibaldi Fire department, Good Samaritan vessels, as well as the U.S. Coast Guard, were all on the scene to offer assistance. Everyone at our firm offers condolences and prayers to the family and friends as they grieve the loss of these men.
GoFundMe accounts have been established for the families of the deceased fishermen, Todd Chase, and Zach Zappone.