Appendicitis While Working at Sea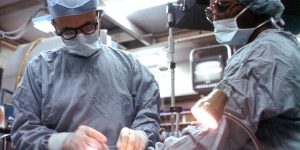 Before heading off to sea, workers have a great deal of planning and details to attend to. The last thing anyone wants to think about is becoming ill at sea. For many, COVID-19 has been the current threat, but for others, appendicitis at sea is a genuine and dangerous health emergency that requires immediate attention.
Each year about 300,000 Americans will require an emergency appendectomy or the surgical removal of the appendix. Acute appendicitis is most common among people between 10 and 35 years of age. Among the U.S. population, 1 in 20 will suffer from appendicitis at some time in their lives. Surgery is usually on an urgent or emergency basis and among health care experts is regarded as the best course of action.
When severe abdominal pain and nausea set in, most individuals will quickly seek medical attention that will result in a swift surgery. But what happens when the victim is working at sea? Assistance is required immediately. Last week, Watchstanders in the 17th District command center in Juneau received the call from the F/V ARICA requesting a medevac for one of their crew members who was presenting with signs of appendicitis.
Watchstanders directed an MH-60 Jayhawk helicopter crew to launch from the Cold Bay Forward Operating Location as the vessel was located approximately 41 miles northeast of Cold Bay. A rescue swimmer was lowered to the boat, assessed the patient's condition, then prepared him for a hoist to the helicopter in a rescue basket. He was taken to Cold Bay where he was reported to be in stable condition and delivered to awaiting medical personnel.
"Fishing vessel Arica was very organized," said Lt. Cmdr. Jared Carbajal, aircraft commander for the case. "Arica's shipboard medical professional had all the appropriate paperwork for the case and passed it to our rescue swimmer. We made a short trip back to Cold Bay and were able to pass off the patient with all medical documents to awaiting EMS. This efficiency allowed for the timely care this patient needed."
Cold Bay is one of three Coast Guard FOLs in Alaska used seasonally to reduce response time for distressed mariners out at sea. Thankfully, the helicopter crew, based out of Air Station Kodiak, was on deployment to FOL Cold Bay and were able to respond quickly.
The first sign of appendicitis is often pain across the abdominal area. The following symptoms are also common:
• abdominal pain that becomes progressively worse
• nausea
• vomiting
• fever
• diarrhea or constipation
• loss of appetite
Anybody who experiences progressively worsening pain in the abdomen should seek medical attention immediately. Crewmembers at sea who experience these symptoms must alert their captain or supervisor and request medical treatment immediately. Other conditions may have similar symptoms, however, it is imperative as well as the mariner's right to seek a diagnosis from the qualified medical personnel of their choosing. Their life may depend on it.
What are the rights of a crewmember who becomes sick while working at sea? The Jones Act is federal legislation that protects American workers who have been injured or fallen ill while performing their duties while working at sea. If you or a loved one have become ill while working at sea, contact the experienced lawyers at Stacey and Jacobsen, PLLC to learn more about your rights.