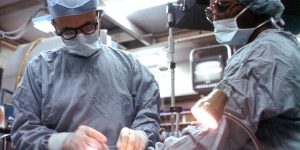 Before heading off to sea, workers have a great deal of planning and details to attend to. The last thing anyone wants to think about is becoming ill at sea. For many, COVID-19 has been the current threat, but for others, appendicitis at sea is a genuine and dangerous health emergency that requires immediate attention.
Each year about 300,000 Americans will require an emergency appendectomy or the surgical removal of the appendix. Acute appendicitis is most common among people between 10 and 35 years of age. Among the U.S. population, 1 in 20 will suffer from appendicitis at some time in their lives. Surgery is usually on an urgent or emergency basis and among health care experts is regarded as the best course of action.
When severe abdominal pain and nausea set in, most individuals will quickly seek medical attention that will result in a swift surgery. But what happens when the victim is working at sea? Assistance is required immediately. Last week, Watchstanders in the 17th District command center in Juneau received the call from the F/V ARICA requesting a medevac for one of their crew members who was presenting with signs of appendicitis.