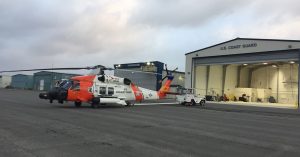 The U.S. Coast Guard medevaced a 28-year-old man from F/V PHOENIX after it was reported that the crewmember was suffering from severe abdominal pain.
Watchstanders at the 17th District command center received a call from the F/V PHOENIX on Saturday, July 23rd, at about 11:24 p.m. The vessel was located approximately 160 nautical miles northwest of Cold Bay, Alaska at the time of the call.
The U.S. Coast Guard directed the launch of an Air Station Kodiak MH-60 Jayhawk helicopter aircrew from the forward operation location at Cold Bay, which arrived on the scene at approximately 6:13 a.m. on Sunday, July 24th.