Leg Injury Aboard F/V Magnus Martens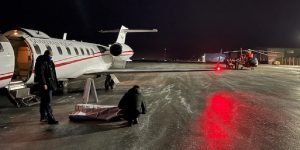 The U.S. Coast Guard medevaced an injured fisherman on December 30th from a vessel located approximately 80 miles northeast of Dutch Harbor. The F/V MAGNUS MARTENS was working in the Bering Sea when the accident occurred.
The U.S. Coast Guard Cutter ALEX HALEY, which was on patrol in the Bering Sea near Unimak Island, received notification about the severely injured man via VHF marine radio.
An MH-65 Dolphin helicopter crew was deployed and hoisted the injured fisherman. He was then flown to awaiting Guardian Flight Alaska personnel in Cold Bay who then transported him to Anchorage for a higher level of care.
"Due to the range from Dutch Harbor and because the fisherman's severe injuries required additional time to place him in a rescue litter, the helicopter needed to refuel at sea," said Lt. Wes Jones, aircraft commander for the case. "Helicopter in-flight refueling is an incredibly demanding and complex maneuver for both the cutter and the aircraft to increase on scene endurance. The combined teamwork of the crew aboard Alex Haley, the Magnus Martens, and the 17th District command center enabled us to get this man on a Guardian Flight aircraft headed to Anchorage to receive the care he needs."
The Magnus Martens is a relatively new vessel, built by Fred Wahl Marine. Construction of the 58-foot vessel was completed in 2013. At the time of the hoist, weather conditions were reported as 6-foot visibility with 5-knot winds.
Every year thousands of commercial fishermen, deckhands, tugboat workers, and other maritime workers suffer painful and debilitating leg and foot injuries. These range from broken bones and dislocations to injuries so debilitating they require amputation. If you have been injured at sea and have questions about your rights, call Stacey and Jacobsen, PLLC. There is no charge for the consultation, and you will pay no attorney fees unless we win your case. Call our office at 877-332-5529 to learn more about your options.