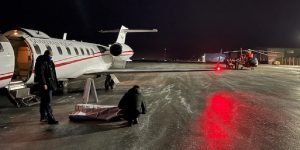 The U.S. Coast Guard medevaced an injured fisherman on December 30th from a vessel located approximately 80 miles northeast of Dutch Harbor. The F/V MAGNUS MARTENS was working in the Bering Sea when the accident occurred.
The U.S. Coast Guard Cutter ALEX HALEY, which was on patrol in the Bering Sea near Unimak Island, received notification about the severely injured man via VHF marine radio.
An MH-65 Dolphin helicopter crew was deployed and hoisted the injured fisherman. He was then flown to awaiting Guardian Flight Alaska personnel in Cold Bay who then transported him to Anchorage for a higher level of care.