CDC Recommends Fishermen Receive the COVID-19 Vaccine During First Phase of Distribution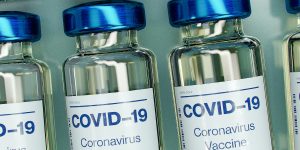 The world watched today as the first COVID-19 vaccine was administered in Coventry, England. The recipient was Margaret Keenan, a 90-year-old grandmother. With several vaccines becoming available in the weeks ahead, the next question is who will be included in the first phase of distribution?
Fishing and maritime industries have been hit particularly hard by COVID-19. The rapid spread in processing facilities both on land and at sea has been devastating for workers and processors. Distribution and transportation disruption, border restrictions, and a change in the demand for fresh seafood due to restaurant closures and event cancellations are just a few of the many hardships the industry has faced.
Last week, the CDC advisory council recommended that those who work in the food and agriculture sectors be among the next wave of vaccinations. Priority for the first round of vaccinations will be given to health care and long-term care facility workers. This distribution is being called "Phase 1a". It has been recommended that the next wave include first responders, educators, transportation workers, and food and agricultural workers (which includes fishermen and seafood processors). This group will be called "Phase 1b".
In a statement released by the National Fishing Institute, President John Connelly said, "The National Fisheries Institute recognizes the hard work being done by these public health professionals and commends them on their decision to provide the vital vaccine initially to healthcare workers. Frontline seafood workers should rightfully be near the front of the line for vaccines.  All Americans depend on these women and men to harvest and process healthy foods. As the federal agencies and state Governors develop their vaccine plans, they should protect those who labor to feed America's families during this pandemic.  Governments need to move from calling these folks heroes to protecting them with vaccines."
Commercial fishing crews, processing vessels, and land based processors are all considered critical infrastructure within the agriculture and food sector. As such, these essential workers continue to harvest and process seafood during shutdowns.
While the COVID-19 pandemic has been hard on those who harvest, process, and distribute fresh seafood, the demand for canned and frozen seafood by consumers has increased this year. As people eat at home and prepare more of their own meals, stocking the freezer and pantry with nutritious high protein foods is a necessity, and seafood fills this need. It may be years before we fully understand the effects the global pandemic has had on the seafood industry.
There is no doubt that distribution of the COVID-19 vaccines will be a long and complicated process, and we are far from returning to "normal". However, with vaccine distribution comes better worker health, safety, and a stabilizing effect on this essential industry.