Crewmember Suffers Crushed Arm Aboard F/V Alaska Ocean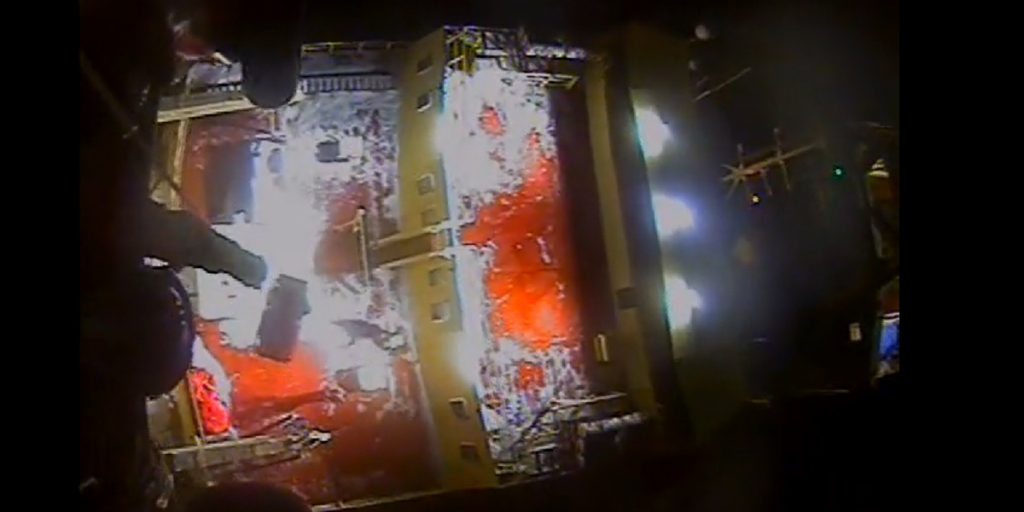 A 45-year old crewmember was medevaced on Sunday, February 21st after sustaining a crush injury to his arm.
District 17 Watchstanders in Juneau, Alaska received the request for assistance from HealthForce Partners on behalf of the F/V ALASKA OCEAN. A medevac was required for the injured fisherman.
A U.S. Coast Guard Air Station Kodiak MH-60 Jayhawk helicopter aircrew was deployed and traveled to the site of the accident, approximately 30 miles northeast of Cold Bay, Alaska. The injured crewmember was then transferred to the local Cold Bay medical clinic to await an additional transfer to Anchorage, Alaska for a higher level of care.
"Good communication with the Alaska Ocean, the Jayhawk aircrew, and the 17th District command center, we were able to conduct the medevac efficiently so the patient could receive a higher level of medical care," said Lt. Joseph Wineke a 17th District command center watchstander.
Weather on the scene was reported as 23 mph winds, 28 degrees, with visibility of approximately 11 miles. The cause of the accident is unknown at this time.
Under Federal Maritime Law and the Jones Act, employers and vessel owners are required to provide crewmembers and fishermen with a safe place to work and a seaworthy vessel. All members of the crew must be properly trained and be given proper and safe equipment to do their jobs. A moment of negligence can quickly lead to a permanent hand or arm injury. If you are injured through negligence or unseaworthiness, you may be entitled to damages for lost wages, lost wage-earning capacity, disfigurement, rehabilitation costs, pain and suffering, and medical expenses. In nearly every case, an injured fisherman, deckhand, or crewmember is entitled to maintenance and cure.
The lawyers at Stacey & Jacobsen, PLLC understand how crush injuries happen and how they impact you and your ability to earn a living in the future. They know how accidents happen aboard ships, and they understand how those accidents can be prevented through safe practices. Stacey and Jacobsen, PLLC is one of the most experienced Maritime Law Firms in the nation.