Crewmember Medevaced from F/V American Triumph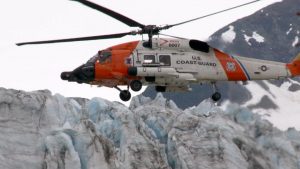 The U.S. Coast Guard medevaced a woman from the F/V AMERICAN TRIUMPH on February 27th, 2021 after it was reported that she was suffering from symptoms consistent with an allergic reaction.
Watchstanders at the 17th District command center in Juneau received the call from Health Force Partners on behalf of F/V AMERICAN TRIUMPH at about 4 p.m. and directed the launch of a crew from Forward Operating Location Cold Bay. The vessel was located approximately 100 miles northwest of the Cold Bay location.
The 31-year old crewmember was hoisted by an Air Station Kodiak MH-60 Jayhawk helicopter crew and transported to a LifeMed flight team in Cold Bay. She was then transported to a higher level of care in Anchorage.
"Good, consistent communication between command center personnel, American Triumph, and Health Force Partners allowed us to monitor the patient's condition and coordinate an effective rescue when her condition worsened," said Petty Officer First Class Christopher Catalioto, a 17th District command center watchstander.
Weather at the scene was reported as 29 mph winds, air temperature of 28 degrees, and 10-mile visibility.
An "allergic reaction" is the way the body responds to an allergen; the body will produce allergic (IgE) antibodies. These antibodies locate the allergens in your body and work to remove them from your system. A chemical known as "histamine" is released.
Reactions can range from mild, such as a rash or hives, itchiness, watery eyes, and a runny nose to moderate symptoms, to a severe reaction known as "anaphylaxis". This more serious reaction is considered a life-threatening emergency as breathing and swallowing may be impaired. Anaphylaxis may begin with swelling and itching, but within minutes can progress to difficulty breathing, vomiting, diarrhea, confusion, and low blood pressure. Medical attention is required immediately if any of these symptoms occur.
If you are working on a ship or vessel and feel that you are suffering from an allergic reaction, notify your captain or supervisor immediately. The ship is able to consult with a physician by phone or radio for guidance. If you are having trouble breathing, the U.S. Coast Guard will medevac you to a hospital for proper treatment. If you are experiencing any of these symptoms, do not wait; get help immediately. It is your right and it's the law.
If you have been denied medical treatment while working on a vessel or feel that you need the advice of an experienced Maritime Lawyer, call (877) 332-5529 today for a free case consultation.