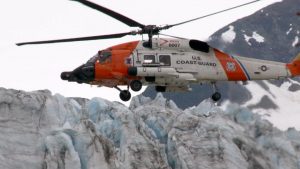 The U.S. Coast Guard medevaced a woman from the F/V AMERICAN TRIUMPH on February 27th, 2021 after it was reported that she was suffering from symptoms consistent with an allergic reaction.
Watchstanders at the 17th District command center in Juneau received the call from Health Force Partners on behalf of F/V AMERICAN TRIUMPH at about 4 p.m. and directed the launch of a crew from Forward Operating Location Cold Bay. The vessel was located approximately 100 miles northwest of the Cold Bay location.
The 31-year old crewmember was hoisted by an Air Station Kodiak MH-60 Jayhawk helicopter crew and transported to a LifeMed flight team in Cold Bay. She was then transported to a higher level of care in Anchorage.