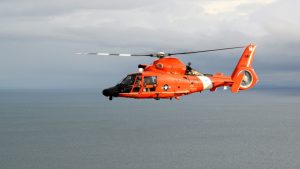 It is with great sadness that we report the death of two Oregon fishermen after the 38-foot F/V COASTAL REIGN capsized on Garibaldi Bar. The incident occurred near the mouth of Tillamook Bay on Saturday, February 20th.
According to U.S. Coast Guard Petty Officer Steve Strohmaier, Coast Guard personnel had been watching the bar area from a watchtower as boats returned to port. "The bar was not closed, but there were small craft restrictions," said Strohmaier.
At about 4:40PM, watchtower personnel watched as the vessel turned sideways in the surf then capsized while crossing the bar. Tillamook Bay rescue boats were immediately deployed, and Good Samaritan vessels responded to the scene. A USCG helicopter was deployed from Astoria and arrived shortly thereafter.