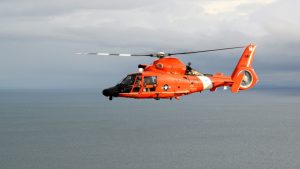 On Sunday June 11th at approximately 2:25 p.m., U.S. Coast Guard Sector Columbia River watchstanders received a call from a witness reporting that a boat had overturned. Two individuals entered the water east of Tongue Point on the Columbia River, near Astoria.
Responding promptly to the distress call was a U.S. Coast Guard Air Station Astoria MH-60 Jayhawk helicopter crew and a U.S. Coast Guard Station Cape Disappointment 29-foot Response Boat-Small II crew.
By 3 p.m., the helicopter crew reached the scene and located a person stranded on top of a dayboard channel marker. A rescue swimmer was deployed and retrieved the individual, who was hoisted from the water to the helicopter.