Coast Guard Rescues 3 Fishermen at Mouth of Columbia River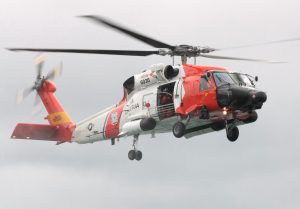 The US Coast Guard rescued three commercial fishermen on Sunday morning after their fishing vessel COASTAL REIGN began taking on water. The crew reported that their vessel struck a submerged object as they navigated the mouth of the Columbia River.
Watchstanders at Coast Guard Sector Columbia received the captain's mayday call (listen here) at 3:20 a.m. An MH-60 Jayhawk helicopter was launched, and first to arrive on the scene at 3:38 a.m. A 47-foot motor life boat from Ilwaco, Washington arrived shortly thereafter, and assisted with the dewatering of the fishing vessel.
The dewatered vessel was then towed to safety and moored at 4:40 a.m.
A Captain of the Port order was placed on the COASTAL REIGN to ensure that damages are properly repaired and that the vessel passes inspection by a Coast Guard marine inspector before operating again.
There were 6-foot swells and winds of approximately 15 mph at the time of the rescue.