Two Pulled from Columbia River After Boat Capsizes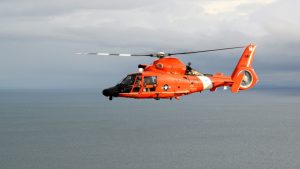 On Sunday June 11th at approximately 2:25 p.m., U.S. Coast Guard Sector Columbia River watchstanders received a call from a witness reporting that a boat had overturned. Two individuals entered the water east of Tongue Point on the Columbia River, near Astoria.
Responding promptly to the distress call was a U.S. Coast Guard Air Station Astoria MH-60 Jayhawk helicopter crew and a U.S. Coast Guard Station Cape Disappointment 29-foot Response Boat-Small II crew.
By 3 p.m., the helicopter crew reached the scene and located a person stranded on top of a dayboard channel marker. A rescue swimmer was deployed and retrieved the individual, who was hoisted from the water to the helicopter.
The helicopter crew continued to search the area, and at 3:22 p.m., located a person floating face-up in the water. The rescue swimmer was lowered from the helicopter into the water and determined that the person was unresponsive and not breathing.
The individual was hoisted from the water and transferred to a nearby U.S. Coast Guard vessel. Cardiopulmonary resuscitation (CPR) was performed during the transfer to awaiting emergency medical personnel at the East Mooring Basin. The individual remained unresponsive upon transfer from U.S. Coast Guard care.
The individual who was rescued from the channel marker was transported by aircrew to Air Station Astoria, where they were transferred to the care of waiting emergency medical personnel. Their condition was reported as stable.