Alaska Ferry Hubbard Begins Service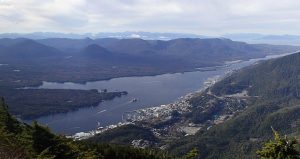 After 17 years, the HUBBARD, an Alaska-built ferry, embarked on its maiden voyage. The ferry, which measures 280-feet long, took an additional four years to enter service due to the need for crew quarters, an amenity that was not part of the vessel's original design. U.S. Coast Guard regulations limit ferry crew members to a maximum of 12 hours of work per day.
Captain Darwin Jensen, commander of the U.S. Coast Guard Sector Juneau, presented the HUBBARD two captains with a certificate of inspection, marking the final step before passenger service could commence. Officials from the Alaska Marine Highway System and the state Department of Transportation Commissioner were on hand for the presentation ceremony.
The HUBBARD along with the TAZLINA are the first and only two ferries built in Alaska at a cost of $60 million each. This Alaska ferry project was conceived in 2006 with the intention of providing transportation for day trips from Juneau to Haines and Skagway. Former Governor Frank Murdowski had planned to extend the Juneau Road north to reduce the 14-hour journey, but that plan was eventually abandoned.
Construction of the HUBBARD was completed in late 2018, but the first sailing was delayed for several years due to the bidding process and construction of crew quarters which extended the ferry's range and capabilities.
After departing from Ketchikan, the HUBBARD undertook its first long voyage, which Captain Gabriel Baylous described as smooth, confirming the vessel's ability to handle regular sailing in the Inside Passage. The ferry set sail from Juneau on Tuesday morning.
The HUBBARD can accommodate 300 passengers and 53 vehicles. Unlike other Alaska ferries, it does not currently offer hot food service due to the absence of a large galley.
Several communities including Tatitlek, Chenega, and Pelican, will need dock upgrades to accommodate the HUBBARD, which will only be used for sailings up the Lynn Canal from Juneau to Haines and Skagway.
Robert Venables, executive director of the Southeast Conference, expressed satisfaction with the HUBBARD, the passenger service, and the new crew quarters.