U.S. Coast Guard Welcomes New Commander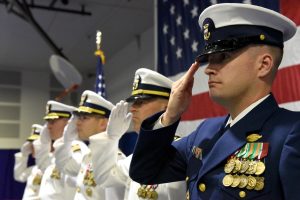 On June 15th, the U.S. Coast Guard Base Seattle celebrated the change of command ceremony hosted by U.S. Coast Guard Sector Puget Sound.
During the event, Capt. Mark McDonnell assumed command of Sector Puget Sound, relieving Capt. Patrick Hilbert from his position as the commander.
The ceremony was overseen by Rear Admiral Mel Bouboulis, who serves as the commander of the 13th U.S. Coast Guard District. This district is responsible for overseeing Sector Puget Sound, which encompasses the Pacific Coast of Washington State to the eastern border of Montana. Sector Puget Sound is also responsible for managing a 125-mile maritime international boundary with Canada as well as maintaining relationships with Tribal Nations.
Capt. McDonnell has been assigned to oversee the operations of eight Coast Guard cutters, five small boat stations, one air station, one aids to navigation team, and the most extensive Vessel Traffic Service in the United States.
"It's a tremendous honor to join the outstanding team of Coast Guard members at Sector Puget Sound," said Capt. McDonnell. "I am very excited to work with our maritime partners in the region to serve the citizens of the Pacific Northwest."
Capt. McDonnell's latest assignment took place in Seattle, where he served as the Chief of Response for the 13th District. In this role, he played a crucial role in safeguarding the waters off Oregon and Washington, as well as the Columbia River.
"I am incredibly proud to have served as Sector Puget Sound's Captain of the Port as the capstone to my 32 years of Coast Guard Service," said Capt. Hilbert. "I have been fortunate to watch our selfless men and women execute our mission of protecting the people and waters of the greater Puget Sound region every day, and I know I'm leaving the region in good hands with Capt. McDonnell."
The change of command ceremony holds a revered place in military customs and traditions and signifies the passing of responsibility and authority from one person to another. This ceremonial event serves to formally demonstrate the continuity of authority within a U.S. military command.