Coast Guard Sector Columbia River Rescues Injured Crew Member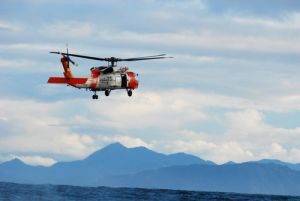 On November 26th, 2016  the Coast Guard rescued an injured crew member more than 170 miles offshore from the Columbia River. The 23-year-old man was aboard the 617-foot Global Saikai, which had left Longview, WA for Kashima, Japan carrying a load of timber.
Coast Guard Sector Columbia River received the call after the crew member fell from a ladder and broke his arm. An MH-60 Jayhawk helicopter crew was launched from Warrenton, OR to transfer the man to emergency medical personnel, who in turn took him to Columbia Memorial Hospital in Astoria, OR.
Weather at the scene was reported as raining with light wind, 13 foot seas and 9 mile visibility.
Global Saikai was built in 2007 and has a gross tonnage of 29755 tons. The vessel was sailing at 46.47 N / 131.88 W as of 7:26 UTC.
Photo courtesy of the U.S. Coast Guard