Whatcom County Man Dies in Scuba Diving Accident
Hank William Hoskins Sr. of Whatcom County died on October 26, 2016, after a scuba diving accident at Gooseberry Point near Sucia Island.
According to Bellingham Fire Department Assistant Chief Bill Hewett, the diver's oxygen supply was cut off due to an apparent equipment malfunction at approximately 4 p.m.
It was reported by the boat crew that Mr. Hoskins, who was diving for sea urchins, had been underwater for about 5 minutes before being pulled aboard. He was rushed by boat about 10 miles east of Sucia Island to Gooseberry Point, where aid crews helped bring him ashore. Mr. Hoskins could not be revived. He was 40 years old.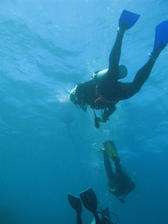 Upon further investigation, it was found that Mr. Hoskins's air hose severed while he was in the water. He did not have a backup air supply, and according to the Whatcom County Medical Examiner Gary Goldfogel, asphyxiation by saltwater drowning was the official cause of death. The death was ruled an accident; however, it was noted that it was an "unsafe dive operation," with disregard to emergency procedures.
Hank William Hoskins Sr. was a local fisherman and commercial diver who lived on Lummi Island with his wife and 5 sons. According to Lummi coach and athletic director Jim Sandusky, a son and 10 nephews played for the Lummi football team, the Blackhawks. Out of respect for the Hoskins family, the Blackhawks football game against Neah Bay, as well as other tribal events, have been postponed.