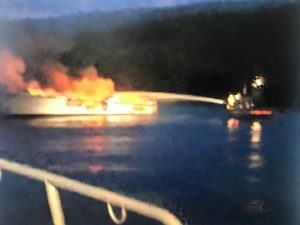 At approximately 3:30 a.m. on Monday, Coast Guard Sector Los Angeles-Long Beach watchstanders overheard a mayday call on channel 16 that a 75-foot commercial diving vessel carrying 39 people was engulfed in flames.
Watchstanders launched two Coast Guard Station Channel Islands Harbor 45-foot Response Boat-Medium crews, a Coast Guard Air Station San Francisco Forward Operating Base Mugu Dolphin MH-65 helicopter crew, a Coast Guard Air Station San Diego MH-60 Jayhawk helicopter crew, as well as the Coast Guard Cutter Narwhal.
U.S. Coast Guard Lt. Cmdr. Matthew Kroll reported that of the 39 people aboard the dive vessel CONCEPTION, twenty-five people are confirmed dead and nine are still missing. Victims have been found, but due to unsafe conditions under the boat, divers are currently unable to recover the bodies.