Student Diver in Critical Condition Rescued off Alki Beach, West Seattle, WA
A 20-year old student diver in critical condition was rescued off Alki Beach in West Seattle on August 28, 2016. According to Seattle Fire Department (SFD) Captain Shata Stephenson, the diver "was within her first five dives." An initial investigation indicates that she was paired with a partner and they became disoriented while diving.   The partner surfaced, expecting that the other diver would, too, but she did not. She was missing in 40 feet of water for about 30 minutes before SFD divers found her and brought her to a SFD boat. A Coast Guard helicopter flew her to Harborview Medical Center.
The diving accident was assisted by the US Coast Guard, SFD, Seattle Police Harbor Patrol, and members of the diving class.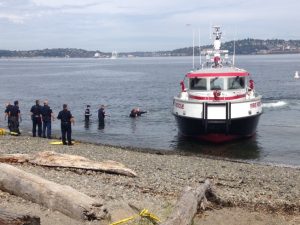 photo credit to Seattle Times