25 Victims Found, 9 People Missing After Diving Vessel Fire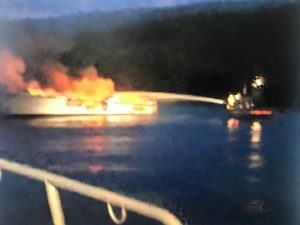 At approximately 3:30 a.m. on Monday, Coast Guard Sector Los Angeles-Long Beach watchstanders overheard a mayday call on channel 16 that a 75-foot commercial diving vessel carrying 39 people was engulfed in flames.
Watchstanders launched two Coast Guard Station Channel Islands Harbor 45-foot Response Boat-Medium crews, a Coast Guard Air Station San Francisco Forward Operating Base Mugu Dolphin MH-65 helicopter crew, a Coast Guard Air Station San Diego MH-60 Jayhawk helicopter crew, as well as the Coast Guard Cutter Narwhal.
U.S. Coast Guard Lt. Cmdr. Matthew Kroll reported that of the 39 people aboard the dive vessel CONCEPTION, twenty-five people are confirmed dead and nine are still missing. Victims have been found, but due to unsafe conditions under the boat, divers are currently unable to recover the bodies.
According to Santa Barbara County Sheriff Bill Brown, five crew members were rescued by the good Samaritan pleasure vessel GRAPE ESCAPE. It was reported that the five surviving crew members were awake and on the bridge when the fire was discovered, then jumped into the water.
"This is probably the worst-case scenario you could possibly have," said Santa Barbara County Sheriff Bill Brown. "You have a vessel that's on the open sea … in the middle of the night." Most of the people on board were likely asleep, and the crew would have limited capacity to fight a fire.
"So you can imagine that of all scenarios: to be in a remote location, have a fire that occurs, have limited, if any, firefighting capabilities that could address that, and then to have all of a sudden a fire that spread very, very rapidly — you couldn't ask for a worse situation," Brown said.
Investigators don't yet know what started the fire.
"At some point they're going to have to make a determination of when the best time is to actually either refloat that vessel and attempt to recover anyone who may be inside or to try to make the recovery while it's still on the ocean floor," Brown said.
According to the U.S. Coast Guard, the vessel eventually sank in 64 feet of water, and vessel is currently resting upside down. Recovering bodies inside the vessel by rescue divers will be a complicated task. A 3,000-foot temporary flight restriction has been established around the scene of the accident. The National Transportation Safety Board in partnership with the Santa Barbara County fire and sheriff's departments will investigate the cause of the accident.
Coast Guard and partner agencies continue their response and investigation. A family assistance number has been established at (833) 688-5551 or (800) 400-1572.
The Conception was near the end of a three-day diving trip. Owned by Truth Aquatics and based in Santa Barbara, the company has been operating since 1974, specializing in diving trips off the California coast. The Conception was one of three dive boats operated by Truth Aquatics, which is owned by Glen Fritzler.
The sleeping area below the deck was reported to sleep 46 people in 20 single bunks and 13 double bunks, stacked three high.
Vessel fires often begin in the engine room or galley where fuel and electrical sources are found together. It is known that pure oxygen was aboard the vessel. While oxygen is not combustible or flammable alone, oxygen feeds fire. In this environment, a spark can quickly turn into a blaze. Because of the inherent danger involved, certification is required to mix and fill scuba tanks holding pure oxygen. Scuba tanks are also required to be tested every five years by a Department of Transportation-licensed inspector. As more information is made available, we will continue to update this post.
The maritime attorneys at Stacey and Jacobsen have successfully assisted families and loved ones in all types of vessel and diving accidents. If you have any questions, please call for a free consultation. Our thoughts and prayers are with all those who lost a friend or loved one in this tragedy.