ALASKA JURIS Hearings to be Streamed Live from Seattle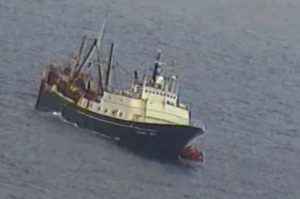 The U.S. Coast Guard began a two-week public Formal Marine Investigation today to determine the cause of the sinking of the 220-foot fishing vessel, ALASKA JURIS. The vessel sank off Alaska's Aleutian Islands on July 26th.
Efforts were made to locate the sunken vessel by the Coast Guard, Alaska Department of Environmental Conservation, and The Fishing Company of Alaska, but the vessel was never found. The ALASKA JURIS sank in approximately 5,400 feet of water, and its last known location was about 41 miles northeast of Segula Island.
The Seventeenth Coast Guard District commander will be holding the two weeks of hearings at the Henry Jackson Federal Building in Seattle. Testimony will be streamed live and can be seen at Livestream.
More than 36 people are expected to be called to testify, including crew members, Coast Guard inspectors and maintenance personnel employed by The Fishing Company of Alaska, based in Renton, Washington.
Investigators will try to determine what caused the sinking and use this information to improve safety for workers on boats that catch and process fish.
Stacey and Jacobsen first reported on this vessel sinking on July 27th, 2016. Additional news and information can be found at ALASKA JURIS news.