Two Crewmembers Missing After F/V EXITO Sinks Off Dutch Harbor, Alaska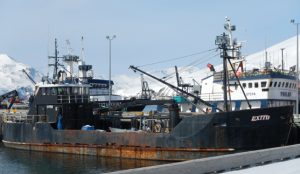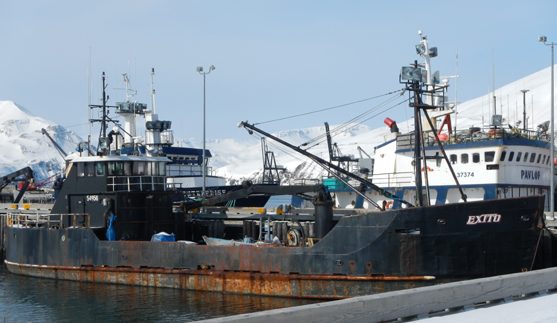 Two of five crewmembers are still missing after the 117' EXITO sank 14 miles northeast of Dutch Harbor, Alaska on Tuesday evening, December 6.
The owner of the EXITO called the Anchorage Coast Guard around 9:40 pm to report that the ship was taking on water and the crew was preparing to abandon ship. A Kodiak Jayhawk helicopter aircrew and four Good Samaritan ships in the area responded, according to Coast Guard Petty Officer Meredith Manning.
"One of the Good Samaritan vessels, the AFOGNAK STRAIT, located three EXITO crew members and took them aboard their vessel," Manning said. "The three had abandoned ship together, and the other two were preparing to abandon ship." The AFOGNAK STRAIT crew rushed the three to Dutch Harbor. The rescued crewmembers reported that one of the missing EXITO crew had put on an immersion suit and was last seen preparing to abandon ship.
The F/V COMMITMENT, F/V BLUE NORTH, and F/V NORTHERN LEAD as well as the Jayhawk helicopter aircrew are still searching for the two missing crewmembers. "In Alaska's vast waterways, the civil/military partnerships the Coast Guard shares with Good Samaritan crews makes rescues like this possible," said Lt. Joey Schlosser, a 17th District command duty officer. "As we continue to search for the two missing crewmembers, we appreciate the assistance of the additional vessels still searching in conjunction with Coast Guard assets, especially the fishing vessel AFOGNAK STRAIT for executing the rescue and transportation of the rescued mariners."
Weather on scene is 8-foot seas and 25-35 mph winds. The cause of the EXITO taking on water and sinking is under investigation.