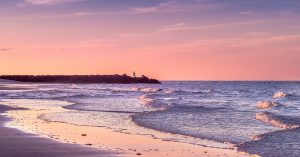 It is with great sadness that we report that the U.S. Coast Guard has suspended its search for three missing fishermen near Massachusetts.
An Emergency Position Indicator Radio Beacon (EPIRB) alert from F/V LEONARDO was received by the U.S. Coast Guard District One command center on Sunday at 3:18 P.M. Personnel from Coast Guard Air Station Cape Cod launched an MH-60 Jayhawk helicopter to investigate.
The F/V LEONARDO was carrying four crew members when it capsized and sank approximately 24 nautical miles southwest of Martha's Vineyard. Coast Guard crewmembers were able to rescue one of the four fishermen, Ernesto Santos, from a lifeboat.