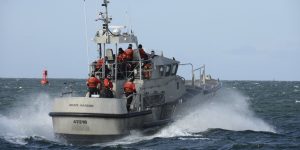 It is with great sadness that we report the search for a missing fisherman near Grays Harbor, Washington has been suspended.
Jason LaBrie, a 47-year-old from Oregon City, was reported overboard on Thursday, May 13th after crewmembers aboard the 26-foot F/V DEFIANCE II discovered he was missing. The crew was halibut fishing approximately 28 miles off the coast of Grays Harbor at the time of the incident.
F/V DEFIANCE II crew activated an EPIRB (Emergency Position Indicating Radio Beacon) at about 12:39 P.M. and within minutes, watchstanders at District 13 alerted all vessels in the area about the missing mariner. A 47-foot lifeboat and an MH-60 Jayhawk helicopter were deployed. Search-and-rescue crews were on the scene by 1:10 p.m.