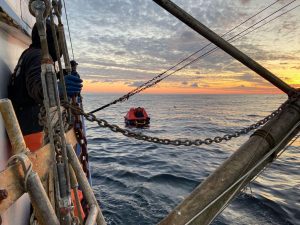 One of the two fishermen who disappeared nearly two weeks ago along the Washington coast has been found alive, floating in a life raft just west of Vancouver Island. According to the U.S. Coast Guard, Canadian family members spotted then rescued the man approximately 70 miles northwest of Cape Flattery on Thursday, October 26th, 2023.
Ryan Planes and his uncle, John, were preparing their fishing equipment on the shores of Vancouver Island when they noticed a small life raft drifting nearby. The individual in the raft had exhausted his supplies of food and water and had fired his final flare to alert them.
Ryan Planes and his uncle promptly rescued and transported the mariner to the Canadian Coast Guard for assistance.