Mariner Lost at Sea Nearly 2 Weeks Found Alive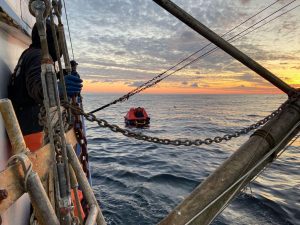 One of the two fishermen who disappeared nearly two weeks ago along the Washington coast has been found alive, floating in a life raft just west of Vancouver Island. According to the U.S. Coast Guard, Canadian family members spotted then rescued the man approximately 70 miles northwest of Cape Flattery on Thursday, October 26th, 2023.
Ryan Planes and his uncle, John, were preparing their fishing equipment on the shores of Vancouver Island when they noticed a small life raft drifting nearby. The individual in the raft had exhausted his supplies of food and water and had fired his final flare to alert them.
Ryan Planes and his uncle promptly rescued and transported the mariner to the Canadian Coast Guard for assistance.
The vessel, named EVENING, departed from the Westport Marina in Grays Harbor on October 12th for a fishing trip and was originally scheduled to return on October 15th. Officials tried using cellphone data to locate the men. "But of course the last ping that we got was just outside of Westport," said Coast Guard Petty Officer Steve Strohmaier.
The U.S. Coast Guard suspended the search on Wednesday after covering over 14,000 square miles in a span of eight hours. As of Saturday morning, the search remains suspended, according to Coast Guard Petty Officer William Kirk.
"We do not have the exact story of what happened yet. We're still waiting to hear from the individual," Kirk said. "We don't want to make any assumptions based off of what we don't know."
U.S. officials will continue their investigation.