Overboard Fisherman Missing off Washington Coast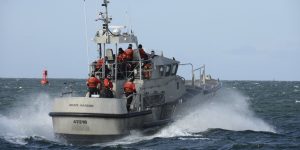 It is with great sadness that we report the search for a missing fisherman near Grays Harbor, Washington has been suspended.
Jason LaBrie, a 47-year-old from Oregon City, was reported overboard on Thursday, May 13th after crewmembers aboard the 26-foot F/V DEFIANCE II discovered he was missing. The crew was halibut fishing approximately 28 miles off the coast of Grays Harbor at the time of the incident.
F/V DEFIANCE II crew activated an EPIRB (Emergency Position Indicating Radio Beacon) at about 12:39 P.M. and within minutes, watchstanders at District 13 alerted all vessels in the area about the missing mariner. A 47-foot lifeboat and an MH-60 Jayhawk helicopter were deployed. Search-and-rescue crews were on the scene by 1:10 p.m.
An HC-27 Spartan airplane and the U.S. Coast Guard Cutter ELM joined the search. After completing 18 searches covering 244 miles over a 22-hour period, the difficult decision was made on Friday to suspend the search.
"The decision to suspend a search is one of the most difficult decisions we have to make," Capt. Nathan Coulter, 13th Coast Guard District, chief of incident management, said in a statement. "We offer our deepest sympathies to the family of Jason LaBrie in this difficult time."
Units involved in the search included:
Coast Guard Sector Columbia River watchstanders
Coast Guard Air Station Astoria MH-60 Jayhawk crews
Coast Guard Station Grays Harbor 47-foot MLB crews
Coast Guard Cutter Elm and crew
Coast Guard Air Station Sacramento HC-27 Spartan crew
Commercial fishing currently carries a fatality rate about 23 times higher than that of all other occupations. Vessel sinkings account for half of all fishing-related fatalities; falls overboard rank second. Deaths from overboard falls are largely preventable if the worker is wearing a life jacket or PFD (personal flotation device). Commercial fishermen and crewmembers are not required to wear life jackets or PFDs, even though federal regulations require commercial fishing vessels to carry at least one PFD for each crewmember.
The attorneys at Stacey and Jacobsen, PLLC are some of the most experienced in the nation in handling wrongful death claims. They have the compassion, commitment, skill, and knowledge to recover fair compensation for the families of persons lost at sea. The lawyers have represented over 100 families in claims of wrongful death. Practical experience, gained over many years of litigation, is important in lost at sea cases. Call (888) 430-8362 today for a free case consultation.