Three Rescued from Burning Vessel Near Port Angeles, WA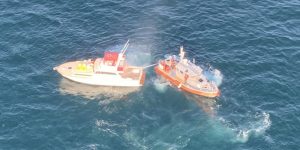 At approximately 6 p.m. on May 5th, watchstanders at U.S. Coast Guard Sector Puget Sound received a distress call reporting that a 48-foot vessel was on fire just off the shore of Port Angeles, WA. The three men aboard the vessel were unable to extinguish the flames.
An Air Station Port Angeles MH-65 rescue helicopter crew as well as a Coast Guard 45-foot Response Boat-Medium crew responded and were at the scene within 15 minutes. The three men were rescued from the burning yacht, and the U.S. Coast Guard boat crew boarded the burning vessel and attempted to extinguish the fire with the use of a fire extinguisher and a water pump. The vessel was then placed in tow to rendezvous with local firefighters. As they were traveling, the fire re-flashed, forcing the boat crew to break the tow. Emergency personnel remained on the scene to monitor and secure the area. The yacht sank shortly after the rescue; however, no fuel sheen was observed.
"The fast action to call for help was essential to their survival," said Petty Officer Alexander Polyak, watchstander at Sector Puget Sound command center. "Having a reliable means of communication, appropriate for your location and distance offshore, can mean the difference between life and death. We encourage all mariners to not only have cell phones, but make sure you have a VHF-FM marine-band radio to ensure communication capability in the event of an emergency."
One of the mariners was examined by medical personnel for smoke inhalation, but no other injuries were reported.