Five Fishermen Rescued Near Grays Harbor, Washington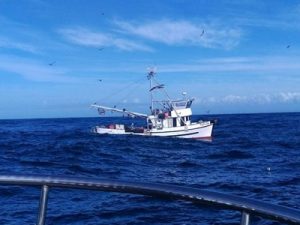 Five fishermen were rescued by the US Coast Guard on Friday, October 7th, 2016 when a 56-foot commercial fishing vessel began taking on water. The Taplow was about 19 miles southwest of Grays Harbor, Washington when the Coast Guard Sector Columbia River received the distress call that the vessel was taking on water. The captain reported that the engine room was half flooded, and pumps had stopped working.
An Urgent Marine Information Broadcast was issued and the Motor Lifeboat Invincible was dispatched, as well as a MH-60 Jayhawk helicopter and crew. The crew was directed to activate their Electronic Position Indicating Radio Beacon and put on immersion suits.
The Grays Harbor helicopter crew was first to arrive on the scene, delivering a pump and standing by until a second helicopter crew arrived. A rescue swimmer was deployed to assist with dewatering until the Motor Lifeboat Invincible and crew arrived. With the fishing vessel listing sideways, the MLB crew advised the fishermen aboard the Taplow to abandon ship.
"This crew did everything they could to save their ship and were well prepared in the event of an emergency. This kind of preparation saves lives and in this case expedited the rescue of these fishermen." said Chief Michael Guerrero, command duty officer, Sector Columbia River.
The Taplow sank in approximately 300 feet of water, carrying several hundred gallons of diesel fuel. No pollution has been reported at this time.
Photo by Petty Officer 2nd Class Benjamin Mitchell