Coast Guard Rescues Two Sailors South of Cold Bay, Alaska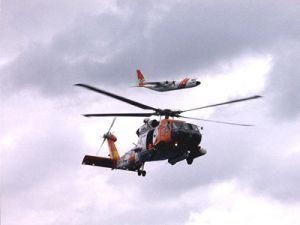 Two sailors arrived in Kodiak on Wednesday, September 28th, 2016 seeking medical treatment due to the sinking of the sailboat Rafiki.
The men were sailing 230 miles south of Cold Bay, in 7 mph winds and 6-foot seas, when the engine compartment began to fill with water. They contacted Coast Guard 14th District in Honolulu, who transferred the call to Coast Guard 17th District in Juneau.  The Rising Sun, a nearby vessel, was diverted toward the Rafiki as backup.  The sailors were instructed to activate and remain with their EPIRB (Emergency Position Indicating Radio Beacon), and with the vessel, until evacuation was absolutely necessary.
A HC-130 Hercules long-range aircraft arrived promptly at the scene and dropped survival suits to the sailors, who were then rescued by a MH-60 Jayhawk helicopter for transport to Sand Point. There, the Hercules picked them up for transport to the hospital.
The Alaskan landscape is a severe and unforgiving one. Senior search and rescue controller Adam De Rocher of District 17 recommends all boaters who are facing such an environment to equip themselves with survival suits, life jackets, flares, a life raft, a satellite phone, and an EPIRB.  "The more prepared the better," he said.  This kind of preparation might just be what saves someone in the end.
Image Courtesy of the US Coast Guard.