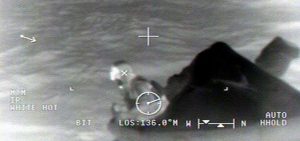 Four mariners were rescued from a raft on November 10, 2021, after they abandoned ship about 13 nautical miles west of Cape Ommaney, near the southern tip of Baranof Island, Alaska.
Watchstanders at U.S. Coast Guard Sector Juneau received a distress call at about 10:40 via VHF radio channel 16. Crewmembers reported that the V/F JULIA BREEZE was taking on water and that they were abandoning ship.
An Air Station Sitka helicopter crew was launched at 10:45 and arrived on the scene at about 11:40. The aircrew located a debris trail from the 53-foot fishing vessel as well as the survival raft. All four of the V/F JULIA BREEZE crew members were able to don survival suits and made it into the survival raft.