F/V Royal Sinks off Oregon Coast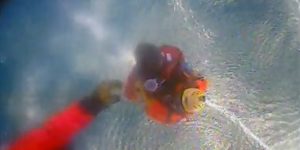 The U.S. Coast Guard rescued a woman, two men, and their dog after the F/V ROYAL sank on Sunday, September 12, 2021, approximately forty-five miles off the coast of Lincoln City, Oregon.
Sector North Bend watchstanders received a distress signal via the vessel's Electronic Position Indicting Radio Beacon (EPIRB) at 2 p.m. An urgent marine information broadcast was issued, and an Air Facility Newport rescue crew and MH-65 Dolphin helicopter was dispatched.
A debris field was located about six miles from the last EPIRB transmission location at 4 p.m. Thankfully, registration on the device was up to date on the 44-foot gray and blue commercial F/V ROYAL, and the crew was found adrift in a life raft.
A rescue swimmer was deployed, and each crew member and the dog were safely hoisted aboard the helicopter. The rescue took approximately 30 minutes, and all were aboard by 4:30 p.m.
"They acted quickly and had the necessary equipment to survive an emergency like this," said Lt. Robert Pfaff, pilot and flight commander during the rescue. "Their preparation and readiness for a worst case scenario saved their lives."
The crew was transported to Air Facility Newport, where family and friends were waiting to greet their loved ones. Upon arrival, all were reported to be in stable condition.
April 6th is National 406 Day. It is easy to remember, as the date (04/06) corresponds to the 406 MHz frequency used by these devices to transmit digital signals to satellites. These beacons are considered by many in the maritime trades to be the best life insurance available. And in some cases, they are legally required by vessel owners. National 406 Day is also a reminder to anyone with a beacon that federal law requires registration to be current.
When activated, an EPIRB sends an electronic signal to a satellite that is then relayed to the Coast Guard. The coordinates of the EPIRB and the identity of the ship is contained in the signal. Depending upon weather conditions, this allows the Coast Guard to narrow the search for a ship in distress or that has sunk. Survival suits often ensure survival for many hours in otherwise deadly, freezing waters. If crewmembers can don survival suits and get into their life rafts, their odds of surviving a fishing vessel sinking are increased.
Stacey & Jacobsen, PLLC is one of the Nation's most experienced maritime personal injury firms. Unexpected tragedy can strike even the best commercial fishing vessels in a matter of seconds. Safety training can make the difference on whether the crew of the vessel survives. Stacey & Jacobsen, PLLC has represented families in high profile fishing vessel sinking cases such as the Arctic Rose, Alaska Ranger, Scandies Rose, Aleutian Enterprise, Destination, Pace Setter, Galaxy, Amber Dawn, Pacific Apollo, and many others. They have learned hard lessons from these past tragedies at sea. They know what training must be done aboard fishing vessels, and they know what survival equipment is essential to save lives.