F/V Julia Breeze Sinks, 4 Mariners Rescued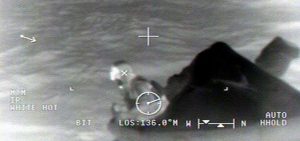 Four mariners were rescued from a raft on November 10, 2021, after they abandoned ship about 13 nautical miles west of Cape Ommaney, near the southern tip of Baranof Island, Alaska.
Watchstanders at U.S. Coast Guard Sector Juneau received a distress call at about 10:40 via VHF radio channel 16. Crewmembers reported that the V/F JULIA BREEZE was taking on water and that they were abandoning ship.
An Air Station Sitka helicopter crew was launched at 10:45 and arrived on the scene at about 11:40. The aircrew located a debris trail from the 53-foot fishing vessel as well as the survival raft. All four of the V/F JULIA BREEZE crew members were able to don survival suits and made it into the survival raft.
The mariners were hoisted by the aircrew of a U.S. Coast Guard Air Station Sitka MH-60 Jayhawk helicopter, then transported to Air Station Sitka to awaiting Emergency Medical Services personnel. The four crewmembers were reported to have been in stable condition upon their arrival.
"I commend the survivors in this case for having the boating safety equipment they used," said Nicholas Meyer, Sector Juneau command duty officer. "Their EPIRB confirmed their distress location allowing our aircrew's timely response, and the survival suits and raft greatly contributed to their safety."
The cause of the incident is under investigation.
This news report highlights the importance of survival suits and operational EPIRB devices. National 406 Day (easy to remember as it corresponds to the 406 MHz frequency used to transmit digital signals via satellites) is April 6th (04/06). These beacons send electronic signals to satellites and are considered by many in the maritime trades to be the best life insurance available. And in some cases, they are legally required by vessel owners.
Stacey & Jacobsen, PLLC is one of the Nation's most experienced maritime personal injury law firms. Unexpected tragedy can strike even the best commercial fishing vessels in a matter of seconds. Safety training and proper safety gear can make the difference as to whether the crew of a vessel survives. Stacey & Jacobsen, PLLC has represented families in high profile fishing vessel sinking cases such as the Arctic Rose, Alaska Ranger, Scandies Rose, Aleutian Enterprise, Destination, Pace Setter, Galaxy, Amber Dawn, Pacific Apollo, and many others. They have learned hard lessons from these past tragedies at sea. They know what training must be done aboard fishing vessels, and they know what survival equipment is essential to save lives.