F/V Daffnie Sinks, Five Fishermen Rescued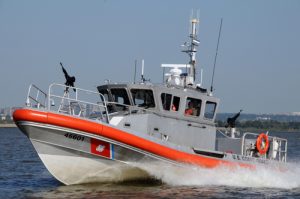 Five crewmembers were rescued from their skiff after their 49-foot fishing vessel sank near Black Island, Alaska. Watchstanders at U. S. Coast Guard Sector Juneau received a call about the accident on Sunday, July 14th over VHF channel 16. The F/V DAFFNIE capsized and all five crewmembers boarded a skiff as the vessel was sinking. The position of the skiff was reported, and watchstanders received an additional warning signal from the EPIRB registered to the vessel. It was reported that the crewmembers had only one survival suit, a handheld radio, and one life jacket between them. They were also holding onto the seine net.
An Alaska State wildlife trooper arrived on the scene and confirmed the location of the skiff. Good Samaritan F/V LOVIE JOANN and a 45-foot Response Boat-Medium crew from the U. S. Coast Guard Station Ketchikan arrived approximately 10 minutes later. Four of the crewmembers were transferred to the RB-M vessel and taken to Ketchikan. The F/V DAFFNIE master stayed with the skiff, and the crew aboard the F/V LOVIE JOANN assisted in the retrieval of the seine net.
The vessel sank in approximately 500 feet of water and can carry up to 400 gallons of diesel fuel. Responders reported a visible sheen on the water in the area of the sinking. Coast Guard Marine Safety Detachment personnel will investigate further regarding pollution and potential salvage of the sunken vessel.