Northwind Captain Suffers Hand Injury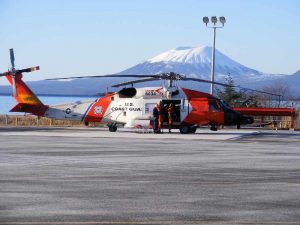 Watchstanders at U. S. Coast Guard Sector Juneau received a report on July 21st at approximately 10:20 a.m that the captain of the processing vessel NORTHWIND had sustained a serious hand injury, possibly severing several fingers. The vessel was located just northeast of Biorka Island at the time of the incident.
The crew aboard the charter fishing vessel NORTH RIVER heard the call for help over VHF channel 16 and noted that they were very close to the NORTHWIND position. The good Samaritan crew responded that they were on their way and would transport the injured captain to shore.
The U. S. Coast Guard was performing a training flight in the area and met the good Samaritan vessel at the shore. They collected the captain then transported him by MH-60 Jayhawk helicopter to the Sitka Fire Department emergency medical team for further treatment.
"It was great timing for everybody involved," said Lt. Justin Neal, co-pilot on the response. "We were maybe two minutes away and listening to channel 16 like we always do, somebody called out needing help and we were able to respond."
When a hand injury occurs, it is crucial to get the injured party to medical care as quickly as possible. Every minute counts, especially in the case of an amputation.
"It was great that everybody was willing to help, and do what was required to get this person to a higher level of care," said Neal.
The maritime lawyers at Stacey and Jacobsen, PLLC understand how hand injuries happen, how they can be avoided, and how they impact a fisherman's ability to return to work at sea. Our background and experience in handling serious landmark and precedent setting maritime hand injury cases distinguishes us from lawyers who handle simple negligence claims. We have recovered millions of dollars in compensation for our clients. Our firm has the experience and resources necessary to litigate against insurance companies who do not want to pay fair compensation.
If you have been injured while working at sea, contact Stacey and Jacobsen, PLLC at 866-974-9633 for a free phone consultation.