Explosion in Whittier, Alaska, 49-year-old Man Missing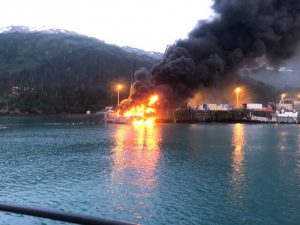 Just after midnight on July 8th, the town of Whittier, Alaska was rocked when an explosion occurred on a fixed barge at the Delong Dock. Fire from the explosion spread to the pier as well as the docked 99-foot F/V ALAGANIK. Watchstanders were alerted to the explosion and blaze after they heard "Whittier fire, Whittier fire" on VHF Channel 16. They contacted Whittier dispatchers, who confirmed that the Delong Dock was indeed on fire.
A 100-yard safety zone was set up to keep vessels away from the fire, and the crew of the U. S. Coast Guard Cutter CHANDELEUR worked to maintain the safety zone as responders searched for a 49-year-old man from Cordova, Alaska who was reported as missing.
In addition to Coast Guard crews, response efforts included members of the Whittier Fire Department, Whittier Police Department, Anton Anderson Memorial Tunnel Fire Department and Girdwood Fire Department. Whittier Fire Department chief Brian Hicks was reported to be the on-scene commander. Whittier Fire Department personnel reported the fire extinguished at about 2:50 a.m.
A U.S. Coast Guard MH-60 Jayhawk helicopter crew as well as the crew from the Cutter CHANDELEUR searched determinedly for the missing Cordova man, covering approximately 12 square miles over the course of 17 hours. The man was not found, and the search has been suspended.
"The Coast Guard committed all available resources in conducting this search effort," said Cmdr. Mark Kuperman, Coast Guard Sector Anchorage deputy commander and the search-and-rescue mission coordinator for the search. "Our thoughts are with the family and friends who were impacted by this tragedy."
The U.S. Coast Guard has contacted the missing man's next of kin and will spearhead the National Safety Transportation Board investigation into the cause of the explosion.
Damage to the Delong Dock appears to be extensive. Fire damage was also reported to three cranes, nearby vehicles, the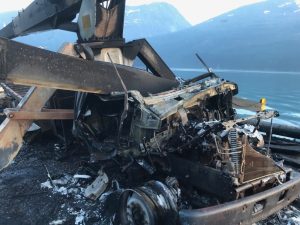 pier, nearby structures, and the F/V ALAGANIK, which as a consequence of the fire, sank. At the time of the sinking, the F/V ALAGANIK was thought to be carrying close to 5,500 gallons of fuel. Global Diving & Salvage, Inc. has been contracted for salvage and site clean-up.
Maritime workers are protected by Federal Maritime Law. Under the Jones Act and the General Maritime Law, workers who have been injured through negligence or unseaworthiness are entitled to compensation for pain and suffering, disfigurement, psychological injuries, lost wages, lost wage-earning capacity, vocational retraining, and future health care expenses. In almost all cases, injured workers are entitled to maintenance and cure, including the payment of all necessary medical expenses and rehabilitation costs.
The lawyers at Stacey & Jacobsen, PLLC are highly experienced at investigating fires and explosions that cause injuries, using highly qualified and trained experts. If you or a loved one has been involved in a maritime accident, call for a free consultation.