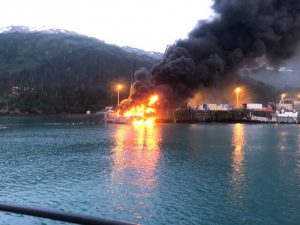 Just after midnight on July 8th, the town of Whittier, Alaska was rocked when an explosion occurred on a fixed barge at the Delong Dock. Fire from the explosion spread to the pier as well as the docked 99-foot F/V ALAGANIK. Watchstanders were alerted to the explosion and blaze after they heard "Whittier fire, Whittier fire" on VHF Channel 16. They contacted Whittier dispatchers, who confirmed that the Delong Dock was indeed on fire.
A 100-yard safety zone was set up to keep vessels away from the fire, and the crew of the U. S. Coast Guard Cutter CHANDELEUR worked to maintain the safety zone as responders searched for a 49-year-old man from Cordova, Alaska who was reported as missing.
In addition to Coast Guard crews, response efforts included members of the Whittier Fire Department, Whittier Police Department, Anton Anderson Memorial Tunnel Fire Department and Girdwood Fire Department. Whittier Fire Department chief Brian Hicks was reported to be the on-scene commander. Whittier Fire Department personnel reported the fire extinguished at about 2:50 a.m.